Fine Press Books
Alison Baker: Thousands Live
Parsons, Kansas: Helianthus Press, 1996. Edition of 100, 70 thus. 32 pages, printed on Mohawk Superfine paper with two wood engravings by John DePol. Quarter blue cloth with Maziarczyk paste-paper covered boards; 4¾" x 6¾" overall. Signed by the author. Prospectus tipped in, signed by DePol. Fine
$75
Charles Bertin: Christopher Columbus
Roslyn, New York: Stone House Press for the John Carter Brown Library. Edition of 200, this copy number 50. Octavo, brown cloth with gold lettering and blind stamped device on front cover, Patterned paper end sheets, text on Rives paper, and five wood engravings by John DePol. Translated by William Jay Smith, and printed under the supervision of Morris Gelfand. Signed by De Pol, Smith, and Gelfand on the colophon. Fine.
SOLD
John Bunyan: The Pilgrim's Progress
London: Shakespeare Head Press for The Cresset Press, 1928. Large quarto, 174 & 162 pages, in a deluxe edition of 195 copies, of which this is number 66. Printed on Batchelor's Kelmscott hand-made paper under direction of Bernard Newdigate at the Shakespeare Head Press and bound in black stained vellum by Sangorski & Sutcliffe. The work is illustrated with vignettes and ten masterful full page wood engravings by Blair Hughes-Stanton (six engravings and the vignettes) and Gertrude Hermes (four engravings). Gilt lettering on spines and on the heavy front boards. There are small scratches and abrasions to the front and rear covers of Volume I, and a small enclosed crack in the vellum near the base of the spine. The paste-downs are lightly toned by the boards, but otherwise, the sheets are uniformly clean and bright, without marks or damage of any kind. TEG. Lacks slip case; VG+
SOLD
Monroe Causley (ed): Arthur W. Rushmore and the Golden Hind Press
Madison, New Jersey: The Madison Public Library, 1994. Booklet, 5-3/8" x 8¼"; 31 pages, with decorative paper cover with label; saddle stitched. This exhibition catalog lists selected titles produced by The Golden Hind Press from its founding in 1927 to Arthur Rushmore's death in 1955 in a retrospective exhibit at the Madison Public Library. It includes three books illustrated with wood engravings by John DePol, who annotated this, his personal copy. Signed by DePol on the inside front cover. Fine
$40
Ralph Chubb: Woodcuts by Ralph Chubb
London: Printed at the Hawthorne Press for Andrew Block, 1928. Octavo with original marbled wraps with paper label on the front cover, an additional label tipped to rear pastedown, and a photograph, presumably of the artist, laid in. In remarkably good overall condition. First and limited edition, first impression, one of 200 copies. A difficult title in any condition, and particularly for one so well preserved.
SOLD
Jack Coughlin: Grotesques
Baltimore: Aquarius Press, 1970. Quarto, quarter tan linen with brown paper covered boards, with taupe end papers and 26 text leaves with twenty etchings, each 3" x 4¼" depicting the whimsical outcomes of copulation between man and various beasts. Overall design by Richard Hendel; etchings hand printed at Atelier LeBlanc, Paris; text printed at Metcalf Printing & Publishing Company; binding by General Bookbinding Company, Inc. Edition of 140 for sale, of which this is numbered 135. Signed by the artist on the colophon. Fine in a near fine slip case.
SOLD
Incident on the Bark Columbia
Cummington, Massachusetts: The Cummington Press, 1941. Small octavo, 5-1/4" x 6-3/4", full tan linen with title on front board in black. Unnumbered pages of Worthy Georgian paper, printed using Poliphilus and Blado types. Preface by Helen Halsey, followed by letters by Joseph C. McCorkle, captain of the Columbia, and by other crew members from 1860 - 1862. Edition of 300, of which this is number 152. Signed on the colophon by Harry Duncan, the founder of the press and dated 24 April, 1992. The third publication of The Cummington Press. Near fine; lacks dust jacket.
$175
Fritz Eichenberg: The Wood and the Graver
Barre, Massachusetts: The Imprint Society, 1977. A limited edition of 500 copies, of which this is number 242, designed by Toni Eichenberg, Fritz Eichenberg's wife. Set in Palatino by the Monotype Composition Company, Baltimore, Maryland; Printed on Mohawk Superfine by The Meriden Gravure Company, Meriden, Connecticut. Quarter leather binding with coarse gray cloth-covered boards and gold lettering on the spine. Signed on the colophon. Includes The Dream of Reason, a wood engraving created by Eichenberg for this project and also used as the frontispiece of this book; the separate engraving is signed and titled by the artist and inserted in a folder in a corner bracket on the rear pastedown. Fine in a very good slipcase with some soiling and shelf wear.
$375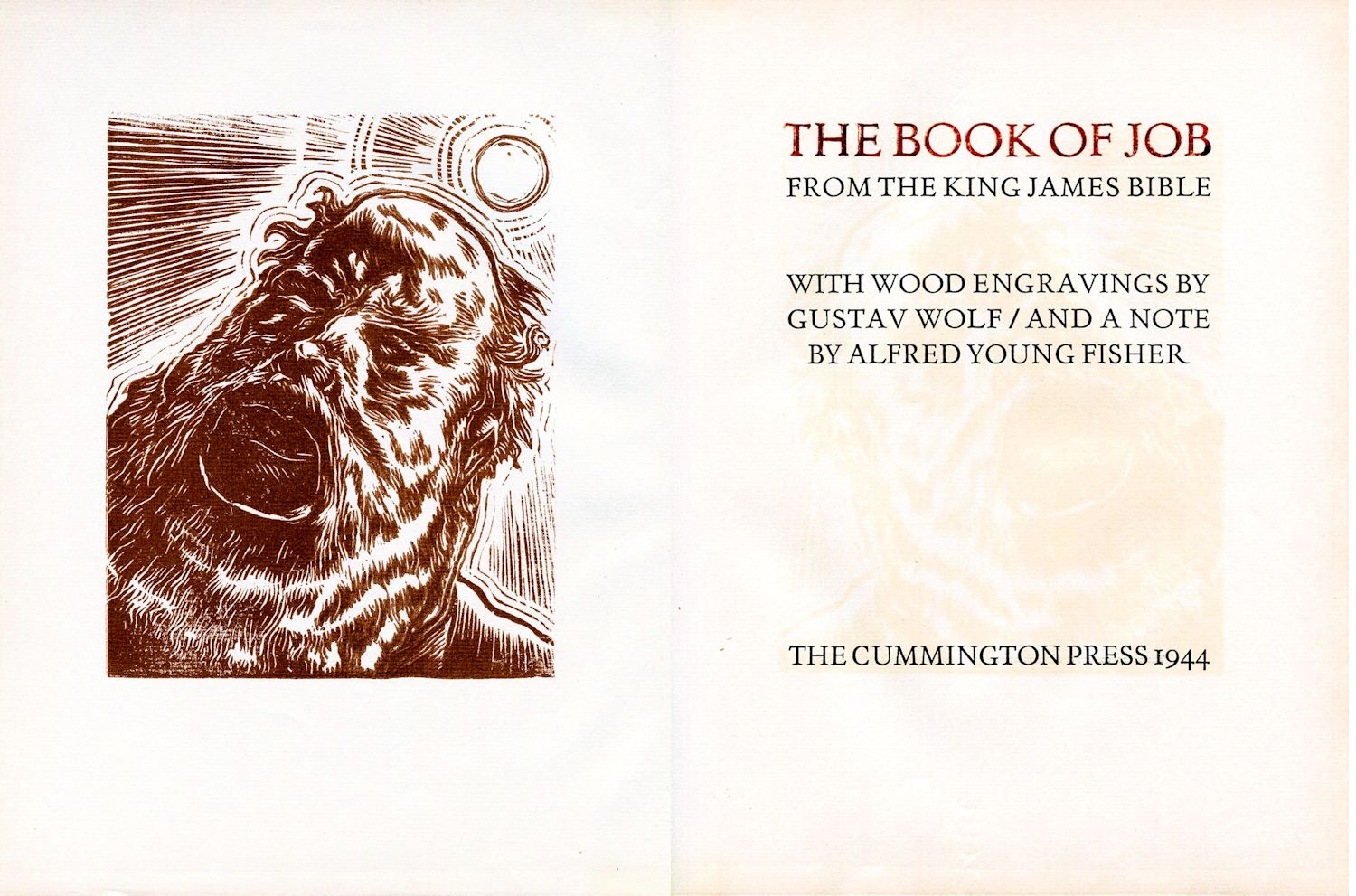 The Book of Job / From the King James Bible
Cummington, Massachusetts: The Cummington Press, 1944. Quarto, edition of 300, of which this is number 117. Quarter calf with silver-flecked patterned boards, showing minor shelf wear at the bottom edges, with rubbing to the leather at the top and bottom of the spine. 73 pages plus colophon; note by Alfred Young Fisher, illustrated with wood engravings by Gustav Wolf, printed in brown ink on Worthy Dacian paper. Facing pages are toned by the illustrations, otherwise clean and in near-fine condition with a faint diagonal crease to the final text leaf in the lower right corner. Binding is clean and tight. Very good overall. Custom clam-shell box covered in tan linen. List of Cummington Press publications dated 1949 laid in. Lacks dust jacket. Named as one of 50 Books of the Year 1944 by the American Institute of Graphic Arts. The fourteenth publication of the Cummington Press.
$250
James Thomas Flexner: Poems of the Twenties
Roslyn, New York: The Stone House Press, 1991. Octavo, paper wrappers; edition of 130 thus, designed by Morris Gelfand. 31 pages, with three wood engravings by John DePol. Printed on Mohawk Superfine text with red endpapers and gray cover. Signed on the colophon by Gelfand, DePol, and Flexner. Signed by John DePol on the front cover flap. Spine lightly faded, bumped at bottom, and a small closed tear on the bottom rear edge near the spine, else fine.
$25
Christopher Gausby: The Synoptic Collection
Forest Hills, New York: Self-published, 2003. Purple silk flap box by Georgia Southworth, 6-1/8" x 9-1/4" houses four booklets with photography by Dwight Primiano, text printed by Earth Enterprise Press, covers by Gausby. Introductory panel pasted to left folding panel. The assembled text is representative of the author's work and philosophical vision. Fine.
$500
Eric Gill: Dress
Council Bluffs, Iowa: The Yellow Barn Press, 1986. Blue cloth, 5¼" x 7" with labels on spine and front cover and decorative end papers designed by John DePol. Sixteen pages, with frontispiece wood engraving portrait of Eric Gill by John DePol and two line engravings in the text by Eric Gill. Fine.
$110
Richard Goodman: The Bicycle Diaries
Stockholm, Wisconsin: Midnight Paper Sales, 2011. Octavo, edition of 250 copies printed by Gaylord Schanilec, of which this is number 193. Brown silk binding with spine label and color wood engraving inset in a well on the front cover and also repeated on the leaf following the dedication page. Six additional color engravings by Schanilec throughout the text, printed on Zerkall cream laid text. From the prospectus: "Shortly after September 11th, 2001, I began riding my bicycle down from my apartment on the Upper West Side of New York City to the World Trade Center disaster site - or as near as I could get to it. I rode down almost every day, in all weather, for about four months. When I came home, I wrote about what I saw." A beautiful book. Fine.
$400
Dorothy Hatch: Waking to the Day
Roslyn, New York: The Stone House Press, 1985. Sewn booklet, 13 pages, 5" x 7½". Wraps. Edition of 125, designed by Morris Gelfand; two engravings in blue ink by John De Pol.Signed on the colophon by both the author and the illustrator. Fine.
$35
William Heyen: With Me Far Away
Roslyn, New York: The Stone House Press, 1994; edition of 175. Octavo, quarter brown cloth with patterned boards designed by John DePol. 111 pages, printed on Mohawk Superfine. Illustrated with 8 wood engravings by DePol. Signed on the colophon by publisher Morris Gelfand, who designed the book; the author; and the illustrator. Bookplate of John DePol on front paste-down. Prospectus and errata slip with wood engraving by De Pol, signed by Gelfand, tipped in. Fine.
SOLD
Rockwell Kent: The Jewel
Portland, Maine: The Baxter Society, 1990. Octavo, two volumes. One is a facsimile edition of 500 copies of the earliest book known to have been entirely written and illustrated by Rockwell Kent: quarter white cloth with gray paper-covered boards, printed on Mould-made Lanaquarelle by Meriden-Stinehour Press and hand bound by Judi Conant. This is one of 100 Benefactor copies, numbered 64 and signed by Sally Kent Gorton. The second volume is the companion booklet in matching gray wrappers with flaps, a commentary on the work and its times edited by Eliot Stanley and signed by him on the title page. Both housed in a matching slip case with white paper label. All in fine condition.
$450
Norbert Krapf: Heartwood
Roslyn, New York: The Stone House Press, 1983. Octavo, 38 pages, with nine wood engravings by John DePol. Quarter leather and patterned boards designed by DePol. Copy number 100 in an edition of 150, signed by the author and artist on the colophon and with the artist's bookplate on the front paste-down. Publisher's catalog laid in. Fine.
SOLD
Norbert Krapf (ed.): Under Open Sky
Roslyn, New York: The Stone House Press, 1986. Octavo, quarter gray cloth, decorative covers designed by John DePol and tan laid end papers. xv + 107 pages illustrated with seventeen wood engravings by DePol. Edition of 185, of which this is number 154. A series of poems and essays in appraisal of the work of William Cullen Bryant by twenty poets, edited by Norbert Krapf, and signed by the editor and the artist on the colophon. John DePol's copy, with his bookplate on the front paste-down as well as his signature. Fine.
SOLD
Federico Garcia Lorca: Songs of Childhood
Roslyn, New York: The Stone House Press, 1994. Quarter blue cloth with decorative boards designed by John DePol. Edition of 135 copies, of which this is number 77. Twenty-seven pages with five wood engravings by DePol containing seven poems in the original Spanish paired with English translations by William Jay Smith. Bookplate of the artist on the front pastedown. Signed on the colophon by publisher Morris Gelfand, artist John DePol, and translator William Jay Smith, and housed in a plain tan cloth slipcase. Named one of the fifty best books of 1994 by the American Institute of Graphic Arts. Fine.
$125
Paul Mariani: Timing Devices: Poems
Easthampton, Massachusetts: Pennyroyal Press, 1977. Tall octavo, 61 pages, illustrated with five engravings by Barry Moser. An additional suite of the engravings printed on a single fold-out sheet and signed by Moser, follows the colophon. Quarter vellum with brown cloth-covered boards and marbled end papers by Gray Parrot of Hancock, Maine. Edition of 175 copies signed on the colophon by both the author and illustrator. Warmly inscribed by Moser on the title page, though not signed.
$425
Hawser Martingale: The "Old Soldier"
New York: Bowne & Co., Stationers, for Water Street Press, 1983. Cream text with wraps of sage Roma cover. Eight leaves, printed rectos only, with two wood engravings by John DePol. The title page has been signed by the artist. Edition of 75. Fine.
$60
Elizabeth McClintock: California Flora
San Francisco: The Book Club of California, 1995; Quarto, 8¼" x 10". 18 leaves and paper covers with three-color decorative design. Descriptive text for twelve indigenous California plant species facing wood engravings by John DePol printed directly from his blocks. Fine.
SOLD
Herman Melville: Moby Dick
Berkeley, California: University of California Press, 1981. Folio, xv + 577 pages. Full dark blue cloth binding with blue end papers and matching slip case. The text and illustrations by Barry Moser were reproduced from the original edition printed and published under the direction of Andrew Hoyem at the Arion Press in San Francisco in 1979 in an edition of 265 copies. This copy, printed by the Kingsport Press, is one of 750 published by the University of California Press in 1981. Fine in a near-fine slip case with minimal shelf wear.
SOLD
Wilfred Owen: The Seared Conscience
Market Drayton: Tern Press, 1993. Nine poems by Wilfred Owen with companion relief etchings by Nicholas Parry. Small quarto, 8" x 9" with text on T. H. Saunders paper, printed and bound by Nicholas & Mary Parry in an edition of 95 copies, of which this is copy number 39. Fine.
$170
Edgar Allan Poe: The Fall of the House of Usher
New York: Cheshire House, 1930. Quarto, 31 pages with an unusual full oatmeal burlap binding and a printed label inset in a well on the front board; hand set type printed by Richard Ellis including six wood engravings by Abner Epstein, printed directly from the blocks and separate from the text. Presentation inscription on ffep, otherwise the pages are clean and unmarked. Mild adhesive toning at the hinges. Edition of 1200 copies, of which this is number 702, fine in a plain slip case, darkened and shelf-worn, with a 1¾" piece missing from one of its short edges.
$150
Shakespeare: Venus and Adonis
Rochester: Leo Hart, 1931. Large quarto, 81 pages french fold, with illustrations by Rockwell Kent in two colors. Quarter brown calf with tan linen boards. Fine in slip case. Edition of 1250, of which this is number 901. Signed by Kent on the colophon.
$425
Henry David Thoreau: Walden
Boston: Shambhala Press, 2004. Octavo, xiv + 303 pages printed on Finch Fine soft white text, quarter green cloth with tan paper covered boards and wood engraving by Michael McCurdy pasted to front board, with matching slip case. Illustrated throughout with wood engravings by McCurdy. Edition of 250 copies, of which this is copy number 240, signed by Michael McCurdy on the colophon. Fine.
SOLD
Benjamin Trumbull: A Compendium of the Indian Wars in New England
Hartford: Publised for Charles Archibald Goodwin by Edwin Valentine Mitchell, 1926. Octavo, 62 pages, sewn binding, gray wraps with label on front cover. Text is uniformly clean and unmarked. The bindings are brittle and loose. Edition of 400, 50 on Kelmscott hand-made paper, and 350 on Georgian Antique paper. Two copies, numbers 291 and 292. A nicely printed book, well worth preserving and re-binding.
$40
John T. Winterich: The Grolier Club 1884 - 1967
The Grolier Club 1884 - 1967
New York: The Spiral Press, Meriden Gravure Company and Russell-Rutter Company for the Grolier Club, 1967. Quarter cloth, paper boards printed with an array of the Grolier Club logo in matching slip case with the faintest trace of shelf wear. Owner's book plate on front paste-down. Fine / Near Fine.
$40
Lillian Hellman: Watch on the Rhine
New York: Privately published for benefit of the Anti-Fascist Refugee Committee, 1942. A special issue of the 1941 Random House trade edition of Lillian Hellman's play. This edition of 349 copies, this being number 101, includes illustrations by Fritz Eichenberg, Don Freeman, Donald Gelb, William Gropper, Rockwell Kent, Benjamin Kopman, Hans Alexander Mueller, Luis Quintanilla, Philip Reisman, William Sharp, and Lawrence Beall Smith. A fine copy in a replacement leather slip case.
$250
James Reid: Selected Wood Engravings
Ashfield, Massachusetts: Brier Hill Press, 2013. Limited edition portfolio of 32 wood engravings, printed from original blocks cut by James Reid in 1930 for The Life of Christ in Woodcuts and in 1931 for The Song of Songs, both originally published by Farrar & Rinehart. A total of 125 were printed, of which 12 are not for sale. More information available at www.brierhillgallery.com/publications.
$1500
John Updike: Concerts at Castle Hill
Northridge: Lord John Press, 1993. Octavo, 49 pages, 6¼" x 9-1/8" overall. Quarter dark brown Morocco with patterned paper-covered boards in a tan linen slipcase. One of 50 deluxe copies in an edition of 300, this copy numbered 10/50 and is signed by Updike on the half-title.
From 1961 to 1965, Updike contributed reviews to the Ipswich Chronicle of concerts given at Castle Hill (the former Crane Estate) in Ipswich, Massachusetts, and signed them "H. H.", Updike's middle initial. The reviews are linear descendants of those penned in the 19th Century by Edgar Allan Poe. They are subtle to the extent that whatever critical restraint they managed to muster undoubtedly saved Updike from lawsuits by the various enraged performers who had the misfortune to fall under his critical gaze. Wonderful. Fine - in all respects.
SOLD
Another Copy...
This copy from the regular edition, bounded in quarter dark-brown cloth with the same patterned paper boards and without the slipcase, numbered 10/250 and signed by Updike on the half-title. Fine
$100
John Updike: The Afterlife
Cambridge, UK: The Rampant Lions Press for Sixth Chamber Press, Leamington Spa, Warwickshire, UK, 1987. Small quarto, 8¼" x 8¼", 29 pages printed on Basingwerk Parchment and bound in full dark orange cloth with paper label on cover. One of 175 copies thus, this numbered 37 an signed by Updike on the edition statement. There were also 26 copies, lettered A-Z on Barcham Green handmade paper and bound in quarter leather. Fine.
SOLD
Richar Wilbur: Seed Leaves
Boston: David R. Godine, 1972. Booklet, unnumbered pages, 6½" x 10¼", printed on Glastonbury Sage Antique paper by Will Carter at the Rampant Lions Press, Cambridge, UK; hand bound by John P. Gray using marbled paper by Ingeborg Borjeson, in a quarter cloth rigid folder with boards covered with the same marbled paper. Illustrated with color etchings by Charles E. Wadsworth.
This is number 142 in an edition of 160 copies, an homage to Robert Frost by Richard Wilbur. Signed on the colophon by both Wilbur and Wadsworth. Booklet is fine, cover is mildly darkened and in very good overall condition.
$450
 
Evelyn Byrne & Otto Penzler: Attacks of Taste
New York: Gotham Book Mart, 1971. Octavo, 63 pages bound in full tan cloth with paper cover label and plain white dust jacket in an edition of 500 copies, printed by Noel Young and Graham Mackintosh, Santa Barbara, California. Essays and reminiscences compiled and edited by the Proprietors of the Gotham Book Mart in the words of many well-known literary and public persons of the day, recounting their discovery of literature and the kindling of their taste in reading.
$75